Villa Layout
Villa Maridadi's wooden Balinese doors open to reveal a seated Buddha statue holding red hibiscus flowers.  Stepping-stones lead guests across a fishpond full of lush aquatic plants to a paved promenade where two striking red pillars featuring antique temple windows provide a focal point (and a centrepiece to the villa logo).
From here a path continues to the broad, open-sided living and dining area that overlooks the pool.  The five air-conditioned bedrooms, each with ocean views, are located in four separate pavilions throughout the villa compound where intriguing artefacts and sculptures evoke a spiritual and tranquil ambiance.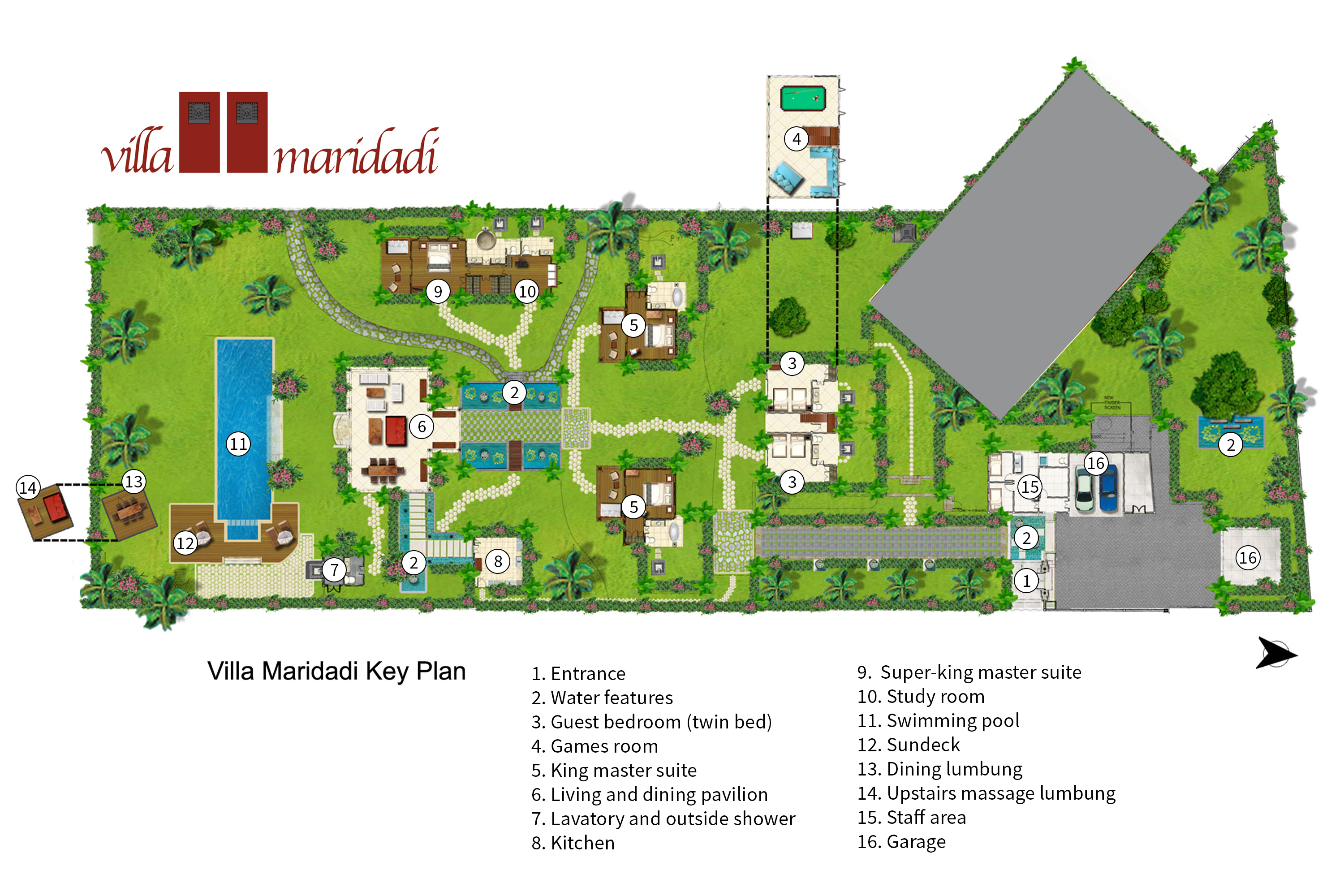 Download in high resolution
Living areas
The grand, open-sided living and dining pavilion sits strategically overlooking the pool and ocean. Its soaring thatched roof is held high by round coconut-wood pillars to maximise the breeze. Surrounded by beautiful lily ponds punctuated with charming water features, this really is the ideal spot to socialise and enjoy the tropical lifestyle. Lounging options range from the oversized daybed upholstered in bright red to the comfortable wicker sofas. In the dining area, the three-metre-long solid wood table seats 10 and makes the perfect setting for a holiday feast! The pavilion features a Bose sound system which also controls the speakers by the pool.
Conveniently situated just behind the dining area is the kitchen pavilion, fully equipped with all the necessary mod cons and fitted with teak cupboards and black granite countertops.
The huge daybed and L-shaped sofa in the games room – both upholstered in brilliant blue – together with squashy red and orange floor cushions, provide a choice of comfortable spots to kick back and relax in front of the large flat-screen satellite TV with DVD. Guests can open the sliding windows to catch the breeze or chill-out in air-conditioned comfort while they enjoy a movie or a game of snooker.
Maridadi's inviting 18-metre green-stone pool is bordered by natural Palimanan stone and is great for swimming laps or simply for cooling off while admiring the ocean views. Alongside the pool a timber deck sports six black sun loungers shaded by red umbrellas and is just the place to soak up the tropical rays, while two loungers on the lawn offer shady repose. A separate washroom and outdoor shower featuring stunning antique Indian copper urns is located conveniently nearby while, behind the pool, sits a 10-seater table shaded by a red sail for alfresco dining. When romantic candlelit dinners are called for, villa staff can also set up a beautiful tent on the large lawn in front of the pool.
Framed by coconut palms and facing the sea, the adorable lumbung (rice barn) is raised on stilts and offers superb ocean views from its shady, garden-level terrace or from the red-cushioned sofa in the glass-walled sanctuary above.
After a long adventurous day touring around, guests can have their deserving bodies soothed in the massage balé overlooking the rice fields.
Bedrooms
Super-king Master Suite
This stand-alone, ocean-view suite features a lofty thatched roof, ceiling fan (in addition to air conditioning) and solid teak floors. The bedroom is accessed via two sets of sliding glass doors, one opening onto a patio where daybeds beckon. Back inside, beautiful Javanese wood is crafted to form the super-king four-poster bed and a decorative wall carving. Teak wardrobes provide plenty of hanging space.
In the bathroom, a cream terrazzo tub shelters beneath the thatch while the shower stands open to the elements in a sunny walled garden. Connecting to the bedroom is a study furnished with a writing desk and a large window seat from which to view the flat-screen satellite TV with DVD player. A trundle bed or baby cot can be set up in the study which, together with the adjacent garden shower room, makes an ideal suite for young families.
King Master Suites 1 and 2
Two master suites are housed in separate buildings behind the living and dining pavilion and also feature teakwood floors and alang-alang thatched ceilings. Interesting artefacts and bright abstract paintings distinguish the two rooms, however both feature king-size beds draped in mosquito netting, ceiling fans (in addition to air conditioning), and stone-walled garden bathrooms comprising a cream terrazzo bathtub and wash basin plus an open-air Palimanan stone shower. A patio area provides the perfect place to take in the ocean views.
Guest Bedrooms 3 and 4
Directly behind the master suites is a large two-storey building fitted out with a games/TV room upstairs and two guest bedrooms downstairs. Both light and airy bedrooms feature large twin beds (which can be converted into a king bed, and have trundle beds underneath) – perfect for children – and a garden bathroom with open-air shower.
Back to top